In the spring of 2021, Norikura Kogen, the small alpine community at the foot of Mt. Norikura officially established their community vision called "Norikura Kogen MIRAIZU". The vision outlines the work they have begun to create a more healthy, connected, and sustainable community from the inside out. Community members and local officials from Matsumoto City and the Ministry of the Environment have been busy the past year working on initiatives they hope will help not only Norikura Kogen but this entire region reduce its carbon footprint, conserve valuable resources, and partner with likeminded people.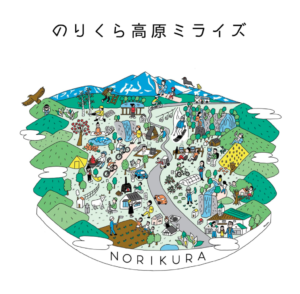 Norikura Kogen's community vision is built on 3 main pillars – Environment / Nature, Community / Culture, and Tourism / Economy. With the Norikura Kogen MIRAIZU now established it gives all community stakeholders a place to dialog and work to solve issues together without needing to be in the same line of work. It also gives this beautiful alpine community a place to partner with like-minded businesses and organizations.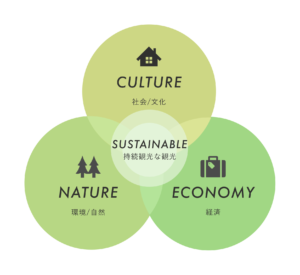 Sustainable actions
Norikura Kogen is leading the charge to move this area into a carbon-neutral future with its Norikura Kogen MIRAIZU (Norikura Kogen's community vision mentioned here), plans for eliminating plastic, CO2 emissions, development of sustainable tourism products, and eBike based programs. In addition, Okuhida Onsengo Hotsprings Village is working with Norikura Kogen to develop electric vehicle (EV) and eBike based mobility options that will allow visitors to freely travel over Mt. Norikura's Raicho Route.
Actions started in 2021
Norikura Kogen Zero-Carbon Forum

Establishing benchmarks for energy consumption in order to find viable renewable energy options.
Develop a roadmap to a zero-carbon and plastic-free community.

Sustainable Tourism Think Tank

Conduct a "sustainable camp" to find ways to incorporate zero-carbon and plastic-free products in tour packages.
Research sustainable options for local mobility to be utilized by local residents and tourists.

Zero-carbon and Plastic-free Actions

Implement eBike rental services.
Implement a "Bring your own water bottle" campaign collaboration with outdoor companies to reduce the use of bottled drinks.
Japan's First "Zero Carbon Park" - What is it?
Norikura Kogen was designated the first Zero-Carbon Park in Japan at the end of March 2021. The Japanese Ministry of the Environment (MOE) is aiming to support communities inside national parks that are taking steps to reduce carbon (CO2) emissions. Being designated a Zero-Carbon Park allows the community to receive additional support as they shift to electric vehicles (EV), renewable energy, and increase local production and local consumption. By showcasing Japan's national parks as carbon-neutral, the hope is to create a place where domestic and international visitors can experience a sustainable, carbon-free lifestyle.
GiFT Norikura - Local production, Local Consumption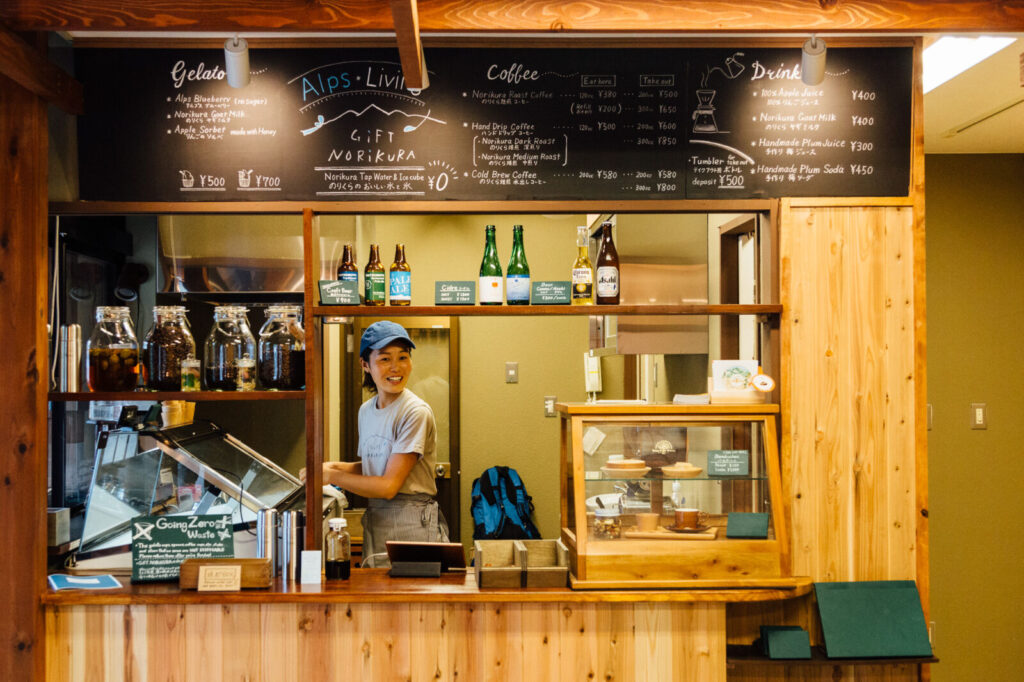 GiFT Norikura - Gelato Cafe serves a locally sourced menu including a wonderful lineup of gelato (made fresh daily), coffee (roasted in Norikura Kogen), sandwiches (made from bread baked in Norikura Kogen), and Baumkuchen (also made locally in Norikura Kogen).
They are working hard to reduce waste by promoting the use of reusable drinkware - for take-out orders, they even offer rental bottles if you didn't bring one. Gelato is served in attractive wooden cups with matching wooden spoons and their cold brew coffee is not to be missed, also served in a stylish double-walled glass.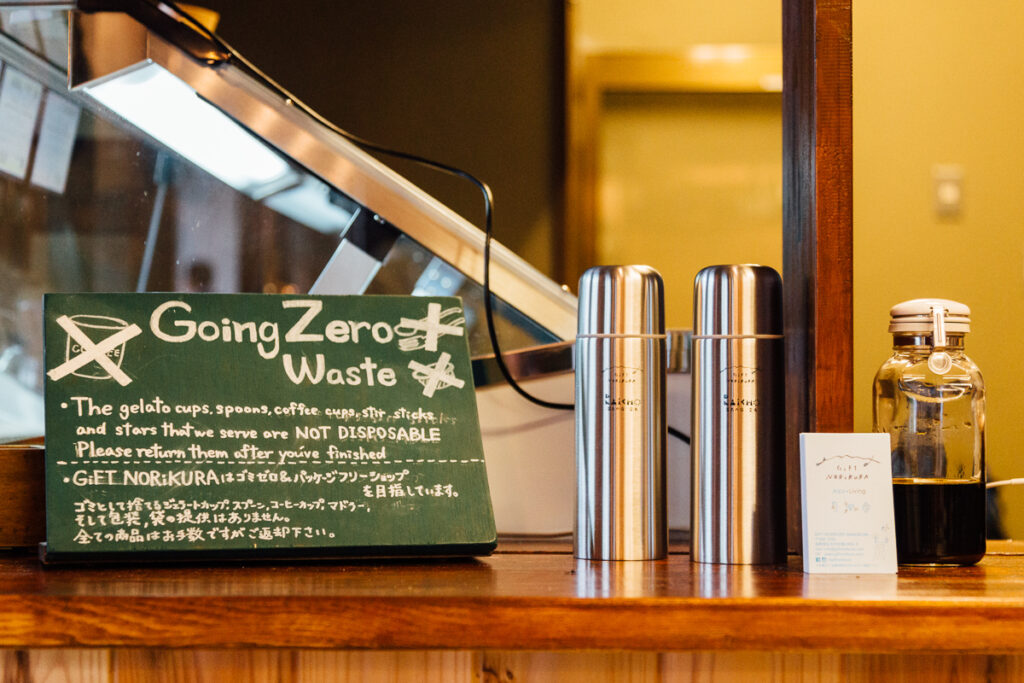 Recommended Menu
Gelato - Goats Milk, Apple, Blueberry, Strawberry
(Handmade waffle cones are also available)
Locally Roasted Coffee
Cold Brew Coffee
Sandwiches
Baumkuchen
Norikura Oyaki (stuffed dumpling)
Bring your own water bottle (places to get fresh drinking water)
As part of the "Bring your own water bottle" initiative, a growing number of cafes and accommodations are setting up water servers to share Norikura Kogen's fresh water with visitors in a reusable bottle. Some lodges are also providing rental bottles if you didn't bring one and an original Norikura x Columbia Sportswear water bottle went on sale last year.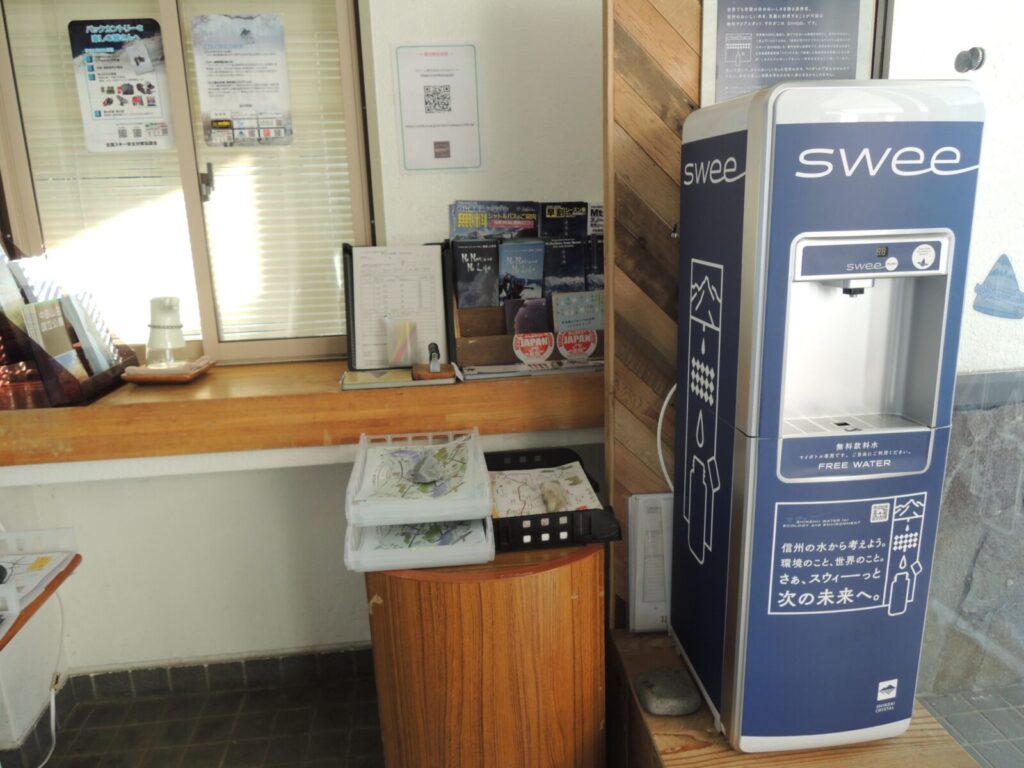 There are just a few of the ways this community is working to create a more sustainable lifestyle here in the heart of the Japanese Alps. With the Norikura Kogen MIRAIZU community vision in place and community members working together with government officials to care for the environment, it's a win-win for eco-minded travelers.