ACCESS BY TRAIN & BUS
Matsumoto Station in Nagano Prefecture and Takayama Station in Gifu Prefecture will be your bases for access. Matsumoto is easily accessible from Tokyo, and Takayama is convenient from Osaka or Nagoya.
Sawando National Park Gate (Bus Terminal) from the Matsumoto, and Hirayu Bus Terminal from Takayama, serve as relay points for access to desired areas.
Also, in the summer season, there are direct buses from the city to places such as Kamikochi and Hirayu.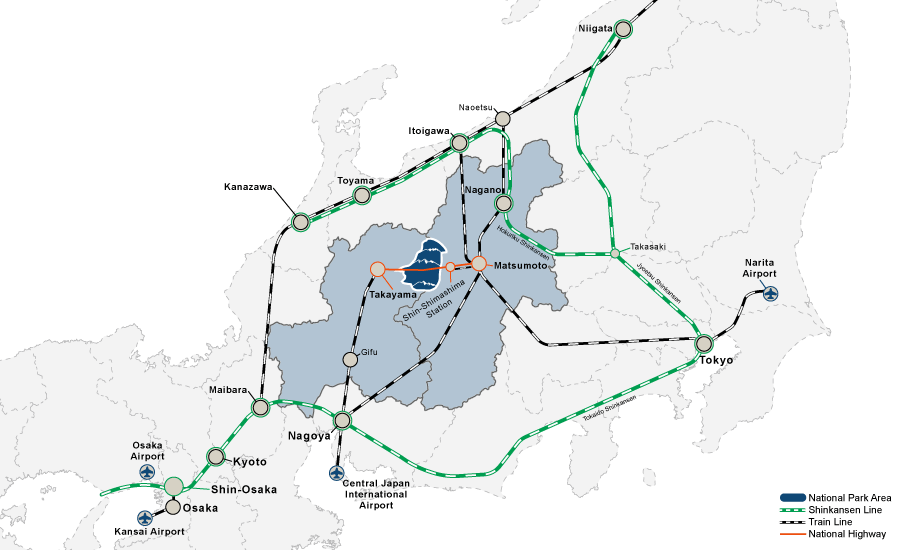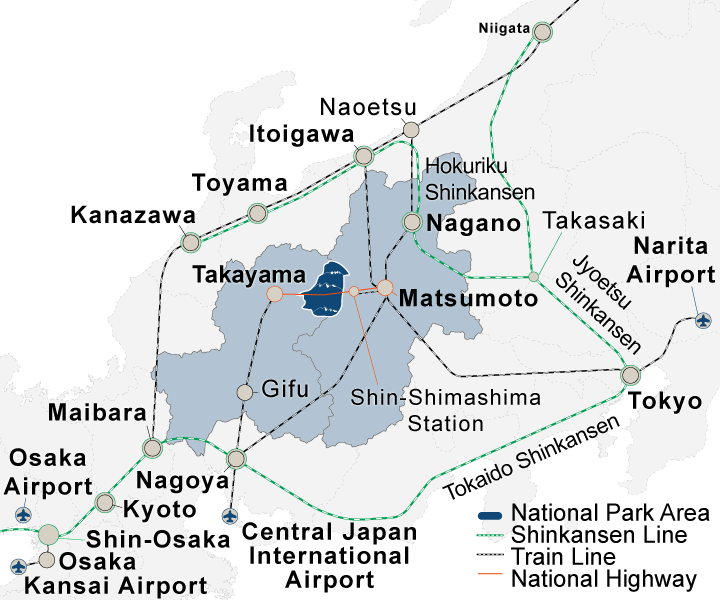 ACCESS BY CAR
Getting to one of the 7 destinations by car is easy with the help of Google Maps. Click one of the destinations below to get directions on Google Maps.
Please keep in mind that the Hotaka Mountain Range, Kamikochi and Mt. Norikura are not accessable by private car and can only be accessed by bus or taxi.
Kamikochi and Mt. Norikura are closed during the winter season and there is no access by bus or taxi during that time.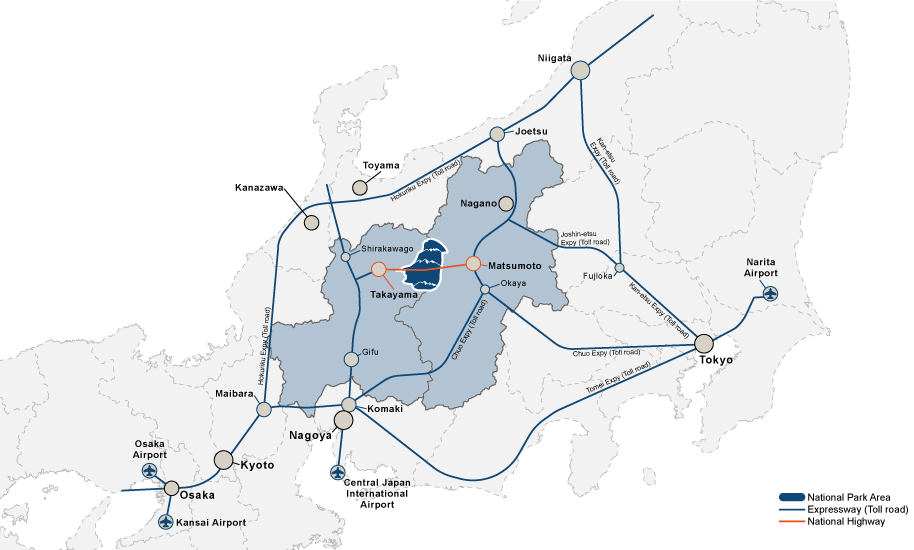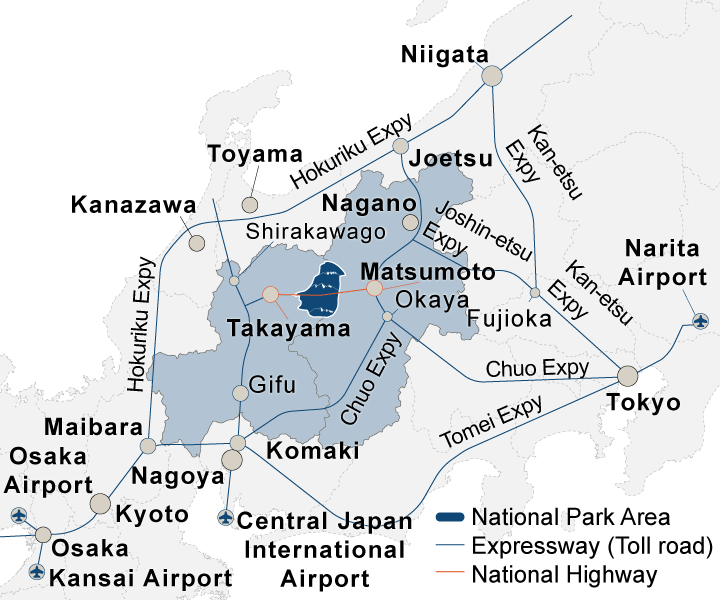 ACCESS BY BICYCLE
PLEASE READ CAREFULLY
*Parts of Route 158 from Takayama to Kamikochi is closed to bicycles (Abo-Toge toll road). There is an alternate route available but that route is sometimes closed due to heavy rain. Please use caution while planning your route.
*As long as you have a bicycle bag, you can take your bike on the bus to Kamikochi or you can take it on JR trains.
*Cycling inside the Kamikochi Area is not permitted beyond the bus terminal.
GETTING TO MATSUMOTO OR TAKAYAMA
Cycling in Japan is a great way to get around but also offers some challenges along the way.
Cycling from Matsumoto to destinations within the Southern region of Chubusangaku National Park is possible via National Route 158 but please use caution as it is a busy highway and please be prepared to ride through many narrow tunnels with poor visibility. You will want head and tail lights for the tunnels some of which are over 1 km long. From Matsumoto, it's about a 50 km ride (one-way) with about 1,000 m of climbing (a little more because it is not all uphill), we recommend making the most of your climb by staying several days to enjoy the area.
ABO TUNNEL
The 4.5-kilometer Abo Tunnel connects Nagano and Gifu Prefectures on National Route 158, passing through the Northern Japanese Alps within the borders of Chubusangaku National Park. Despite Nagano and Gifu being neighboring prefectures, the mountains that divide the two regions made travel between them relatively difficult prior to the opening of the tunnel in 1997. Differences in culture and attitudes between residents of Nagano Prefecture, considered to be East Japan, and Gifu Prefecture, marking the beginning of West Japan, still linger today, even after the tunnel's opening.
Excessive volcanic activity in the mountains underneath the Abo Pass, a mountain crossing on National Route 158 that sits atop the prefectural border, made construction on the tunnel difficult. Initial surveying work began in 1964, decades before the tunnel opened. The design included several sharp curves to avoid drilling into pockets of volcanic gases trapped in the rocks. Work was undertaken at a slow, careful pace; nevertheless, tragedy struck in 1995 when a steam explosion killed four workers. The explosion also affected the nearby Nakanoyu Onsen Inn, which was reopened in 1998 in a different location. The tunnel is open to regular vehicle traffic.