Today, we'd like to introduce some of the measure being taken by facilities in Chubu Sangaku National Park to prevent the spread of infectious disease.
Accommodations
In order to ensure the safety and security of guests to this region, many lodging facilities are taking stringent measures to prevent infectious diseases. We would like to introduce the renowned luxury hotel Gosenjaku as an example of these efforts.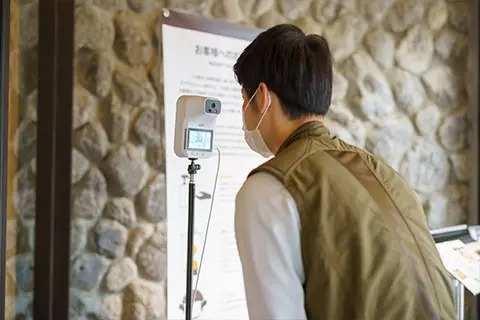 Gosenjaku Hotel Kamikochi is taking a number of measures to ensure the safety and security of their guests. All 76 staff members, including part-timers, have taken monthly PCR tests since April, 2021. Alcohol disinfectant is available in many locations, including the lobby, lounge, souvenir shop, and bathrooms. Handrails, doorknobs, room keys, elevator buttons, and other places guests touch are cleaned and disinfected, and doors are left open during cleaning for improved ventilation. CO2 monitors are in place to check on ventilation conditions, and the hotel is regularly ventilated.
Guests are asked to fill out a survey on their state of health at check-in. The hotel requests that guests disinfect their hands and fingers and take a thermography reading at the hotel entrance before entering. In keeping with Ministry of Health, Labour and Welfare policy, they may have to decline some guests. Guests are also asked to wear a mask on entering the hotel, to maintain social distancing, to observe coughing etiquette, and to refrain from speaking in a loud voice.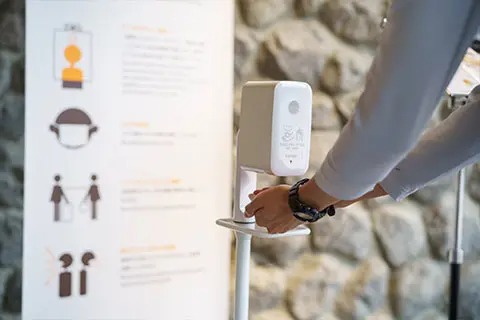 Gosenjaku Hotel Kamikochi asks that anyone not feeling well or with a temperature of over 37.5 °C (99.5 °F) refrain from visiting. They will continue to follow government and municipal policies, putting the health and safety of their guests and staff first.
Those interested in staying in staying in the mountain huts in Chubu Sangaku National Park will be glad to know that Japan Alpine Lodge Association has their own set of Infectious Disease Prevention Guidelines in addition to measures the individual mountain huts are taking. But to help prevent the spread of infection, they ask that visitors bring a mask, disinfectant, and a thermometer. Other requests of visitors include wearing a mask during your stay at the mountain huts, washing and disinfecting your hands and fingers, and refraining from chatting in a loud voice. Also, hanging clothes and towels to dry in the rooms is prohibited.
Transportations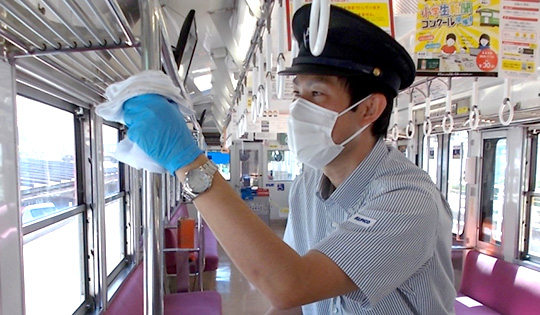 For an example of the safety measures being enacted in transportation, Alpico Kotsu, which transports travelers to Kamikochi, applied an antiviral treatment effective for 3 years to the interior of all their train cars in January, 2021. In the interest of increasing ventilation, train doors are left open while stopped at stations, and waiting room doors are also left open. Members of the train crew and station staff wear masks to prevent respiratory droplets. A further measure against respiratory droplets is the plastic sheets that are set up near ticket gates and around the fare box in train cars. Ticket vending machines and train car interiors are cleaned and disinfected in a timely manner, and there is disinfectant near ticket offices in stations for the frequent use of travelers.
Train crew members are required to check their temperature before coming to work, and their health is checked at roll call. When fever or poor health is suspected, crew may stay home or be replaced on duty. Staff also frequently wash their hands, gargle, and disinfect their hands and fingers.
Alpico Kotsu asks that travelers wear a mask on trains and in waiting rooms, refrain from talking as much as possible in the same, and maintain social distancing when lining up at the station.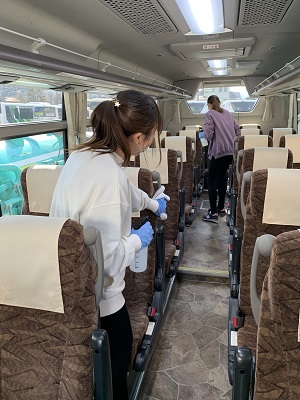 Nohi Bus, another company providing transportation to Chubu Sangaku National Park, has a number of measures to prevent the spread of infectious disease, too. The crew's temperature, blood pressure, weariness, and other conditions are checked when reporting for duty, at the start of shift, and at the end of shift. Drivers, supervisors, and staff wear masks on the bus and in the office. They sit spaced apart in the break room and cafeteria, and disinfect hands and fingers on entering or leaving the bus or office.
After a bus returns to the garage, the interior is disinfected with alcohol during cleaning. Areas that travelers come into contact with the most, like arm rests and hand straps, receive particular attention during disinfection. To prevent airborne infection, the buses use a ventilation system, and in almost all buses this system exchanges the air in about 5 or 6 minutes. Highway buses and charter buses also have low concentration ozone generators like those used in ambulances, hospitals, and schools.
Staff members at the ticket office wear masks, and there are vinyl sheets at the ticket windows to stop respiratory droplets. The floor at the bus center is marked off in increments to facilitate social distancing. Hand disinfectant is set out, and spaces are left between seats in the waiting room.
Nohi Bus asks that customers with a fever, feeling fatigued, or exhibiting other symptoms refrain from taking highway buses or transit buses.
As you can see, true to the Japanese traditions of hospitality and attention to detail, transportation providers and lodgings in Chubu Sangaku National Park are making every effort to prevent the spread of infectious disease and provide a safe and secure environment for travelers. We hope you will likewise take the proper precautions and enjoy your visit here.