Images of crowded trains and bustling cities may come to mind when you think of visiting Japan and that may be true for major destinations like Tokyo, Kyoto, or Osaka but you won't find crowds or busy trains here. This alpine wonderland, located in the southern region of the Chubusangaku National Park is filled with some of Japan's most picturesque landscapes and traditional onsen (hot spring) villages just waiting to be explored. 
This area has a lot to offer all year round from high-quality powder snow in the winter to epic mountaintop experiences hiking in the Japanese Alps during the summer and hundreds of onsen to soothe sore muscles after an adventure. Below you will just a few of the ways to get outdoors, experience something new, and avoid crowds. 
1. Day Hikes
Hiking is a wonderful way to get outdoors and experience some of Japan's most beautiful places. It is fun to explore each of the seven communities on foot, but this time I will focus on hiking in just two areas, Kamikochi and Norikura Kogen.
Hike from Taisho Pond to Kappabashi
Length: 3.5 km, Elevation difference: 1,493 m ~ 1,512 m
A simple but beautiful hike that begins at Taisho Pond, meanders along well-kept paths through lush forests along the Azusa River and through marshlands, eventually ending at the historic Kappa bridge. From the Kappa bridge, it is only a short walk to the Kamikochi Visitor Center which has some beautiful photography on display and is worth visitng.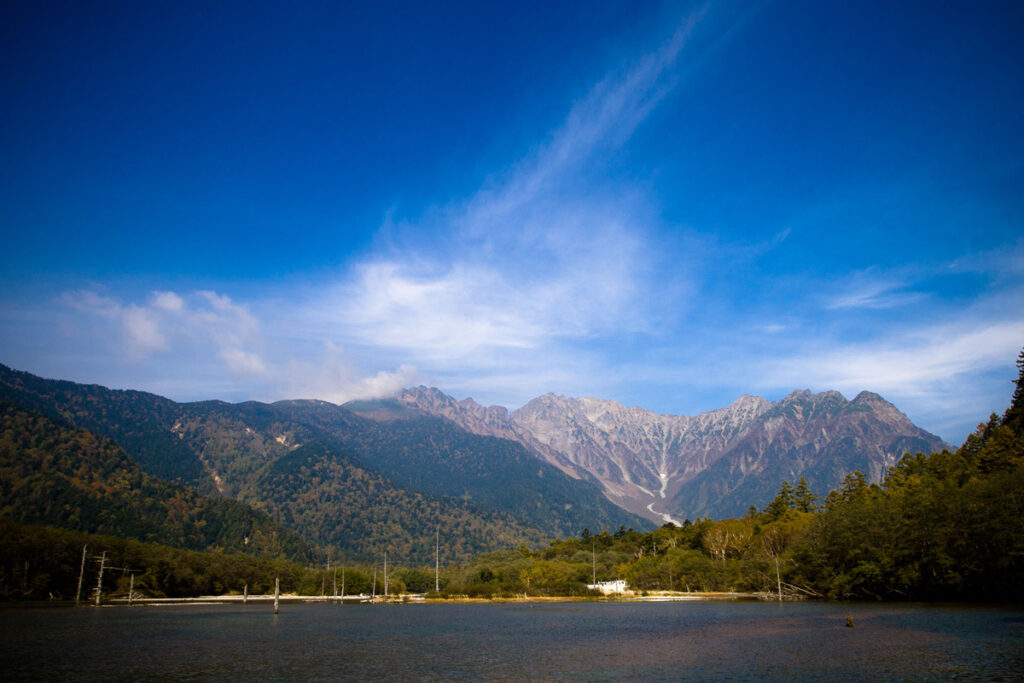 ---
Hike to Mt. Yakedake from Kamikochi
Length: 5.4 km, Elevation difference: 1,509 m ~ 2,444 m
A more challenging hike suited for more adventurous and physically fit. This trail begins in the Kamikochi valley and climbs through a forested trail to the summit of Mt. Yakedake giving visitors a beautiful view of Kamikochi from above with the amazing Hotaka Mountian Range in the distance.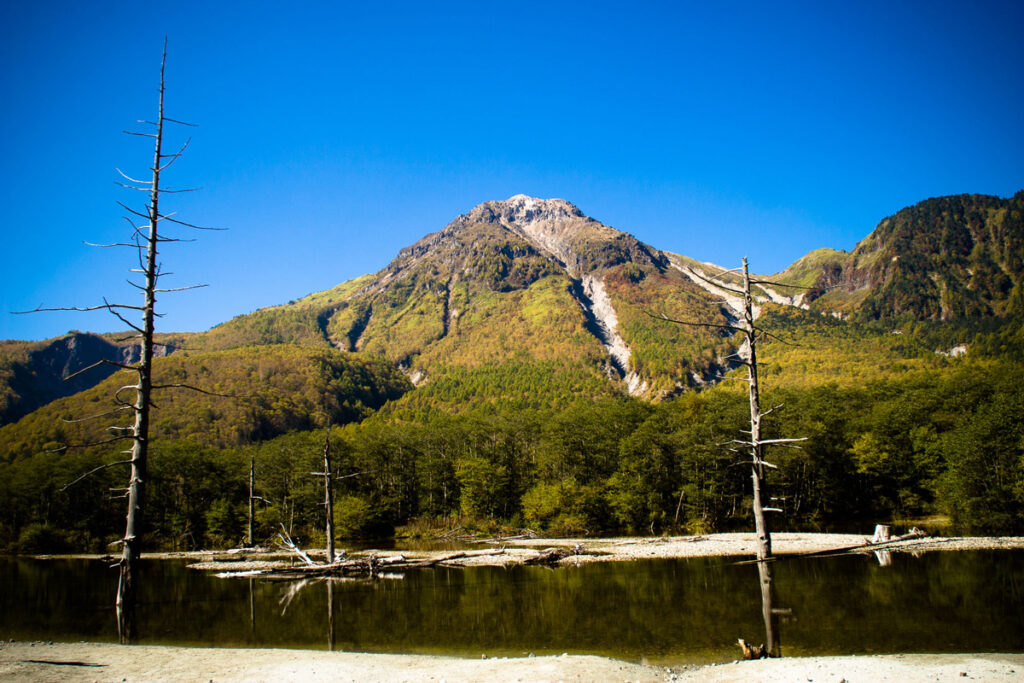 ---
Hike from Kappa Bridge to Myoujin Pond
Length: 7 km, Elevation difference: 1,512 m ~ 1,525 m
The hike from Kappa Bridge to Myojin Pond is made up of well-kept footpaths that meander through the Kamikochi valley. With little elevation gain, this is a great hike for anyone looking for an extended stroll in the forest. Myojin Pond is one of Kamikochis's most prized places and home to a branch of the Hotaka Shrine.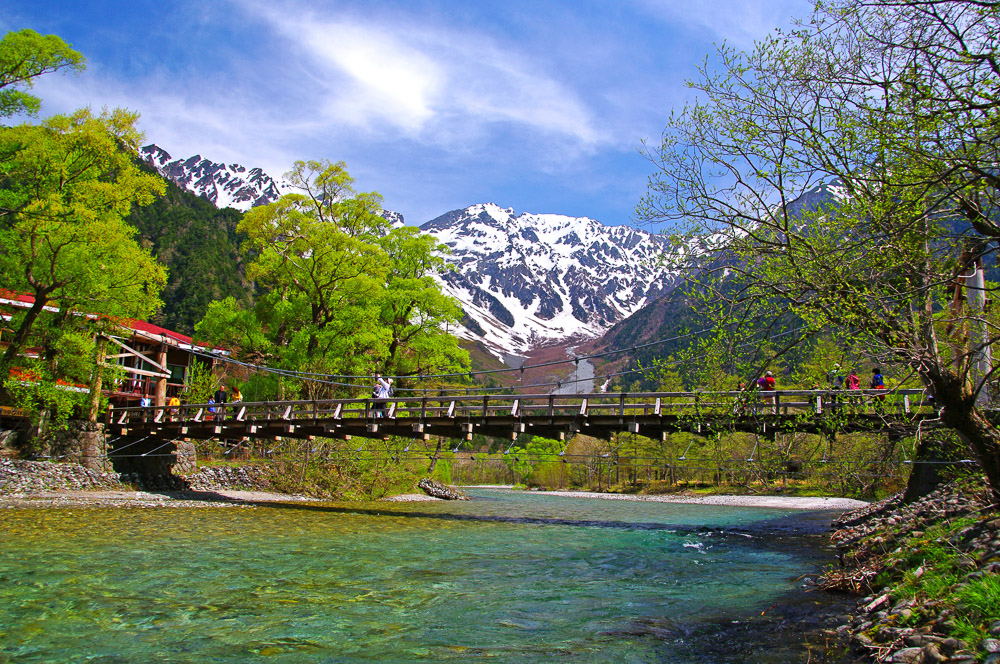 ---
Hikes in the Joyful Walks Norikura Trail System
Norikura Kogen lies at the foot of Mt. Norikura (highest peak Kengamine 3,026 m). It's beautiful topographical features were formed long ago by volcanic activity from Mt. Norikura. The gentle terrain of these highlands makes it a great place for anyone to enjoy the great outdoors. Each of the three trails offers a unique experience so please choose a route based on your ability and points of interest.
For more information on the Joyful Walks Norikura Trail System click here (Google Translation link of the official homepage trail.norikura.gr.jp).
Norikura Trail
Length: 6.5 km, Elevation difference: 1,454 m ~ 1,600 m
---
Ichinose Meadow Trail
Length: 8 km, Elevation difference: 1,454 m ~ 1,518 m
---
Sanbondaki Trail
Length: 11.1 km, Elevation difference: 1,454 m ~ 1,850 m
---
2. Guided Activities
There are a variety of outdoor guiding companies that offer guided tours throughout the area. During the winter season, ski and snowboard lessons are offered at the ski resorts and other snow-based tours like snowshoeing, cross country skiing, and backcountry tours are also available.
During the green season guided nature hikes, trekking, shower climbing, or river hiking, Mountain bike tours are a great way to see more of the area and breath in the crisp mountain air. The links below will take you to recommended activity providers in the area.
Guided Hiking Tours in the Goshikigahara forest. The hidden forest zone of Mt. Norikura in Chubusangaku National Park.
Guided hikes in the Goshikigahara Forest
Nature guide Five Sense offers a variety of guided tours in Kamikochi. If you are looking for a way to learn about the area from experienced nature guides this is who to call.
Guided hikes in Kamikochi
Star watching tours in Kamikochi
Offering year-round outdoor guiding in Norikura Kogen, Mt. Norikura, Kamikochi, and the Azusa reservoir.
Guided Trekking/Hiking
Standup paddleboarding (SUP)
Snowshoe tours
Nature Ski tours
Offering backcountry tours, snowboard lessons, mountain bike lessons, and tours for all ability levels.
Mountain bike lessons
Mountain bike tours
Backcountry tours
Snowboard lessons
Snowshoe tours
Offering various activities all year round in here Norkura Kogen.
Guided hiking
Cycling
Backcountry tours
Snowshoe tours
3. Onsen
After a full day outdoors an onsen (hot spring) is a great way to soothe sore muscles and wind down. There are way too many options to list here but Okuhida Onsengo Hot Springs or Shin-Hotaka Onsen are great places to find a bath if you are on the Hida Takayama side. On the Matsumoto side, check out Shirahone Onsen or Norikura Kogen, both offer day use baths with several different sources.
A few health benefits of onsen
Improve Blood Circulation
Onsen water contains natural elements like sodium bicarbonate and calcium that are absorbed into bodies when bathing. Minerals from onsen water can help increase blood flow and help oxygenate the blood.
Treat Skin Problems
Some onsen contains silica that can soften or smooth rough, dry skin. Onsen containing sulfur are said to be good for treating eczema and psoriasis.
Stress Reduction and Sleep Improvement
If you like a good bath, an onsen will not disappoint. The natural onsen water can relieve muscle tension and the beautiful nature of the Chubusangaku National Park is sure to help clear your mind.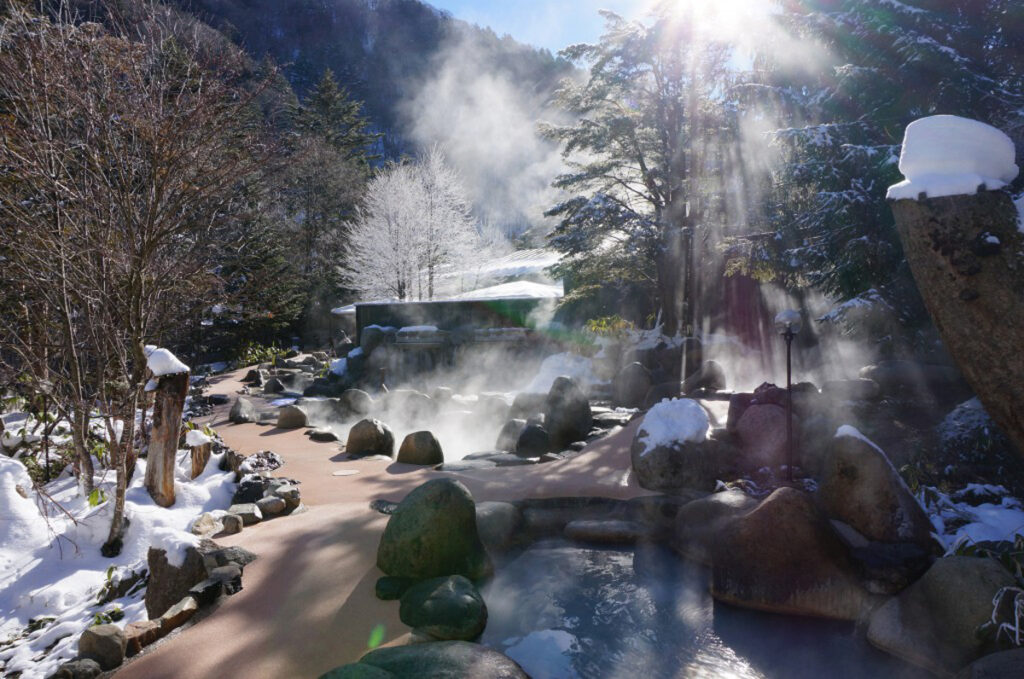 Check out the onsen section for more info on local onsen facilities.